Seven Spiders Spinning by Gregory Maguire.
Hamlet Chronicles
Clarion Books/Houghton Mifflin: NY, 1994.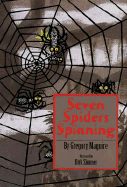 Seven Siberian snow spiders, frozen in the last Ice Age, have been found and then lost. Their transport vehicle overturned in the tiny town of Hamlet, Vermont. The baby spiders oversee a meeting of the Tattletales, the girls in Miss Earth's class, and each imprints on a girl. One spider is collected by the only non-Tattletale girl of the class (Pearl), and each in turn treks from the wreck site in search of their respective girls, creating several spider incidents at the school.
The Tattletales have a grudge match against the Copycats (the boys in the class) related to the annual Halloween Pageant of Horrors in which each grade participates. Each club is determined to beat the other, planning their shows before school even begins.
In finding the girls, the eventual goal of the spiders is to give them a love bite which would poison them. The suspense continues through the book with each failed spider mission. The story rises to a fever pitch when their beloved teacher is bit. A famous reporter, two hospital nurses, the truck driver, and a Smithsonian professor, besides the children, are called upon to save Miss Earth. The cure is fitting for such an outrageous book.
Complete silliness is the standard for this lively, hilarious book. It is as suspenseful and engaging as a young reader can be. One of the best I have read for this reading level. There is no pause in the action; it is one crazy anecdote after another.
Seven Spiders Spinning kicks off a series of slightly fantasy books of Miss Earth's class, ending in an awesome conclusion that ties all of the books together. I happened to read the last book first, not knowing it was a series, and was so taken with Maguire's tale that I had to read the rest. This first book is excellent, too, and I'm enthusiastic about reading more.

related-spiders, schools, humorous stories, boys vs girls, Halloween, small towns, high interest
RL=3rd-6th